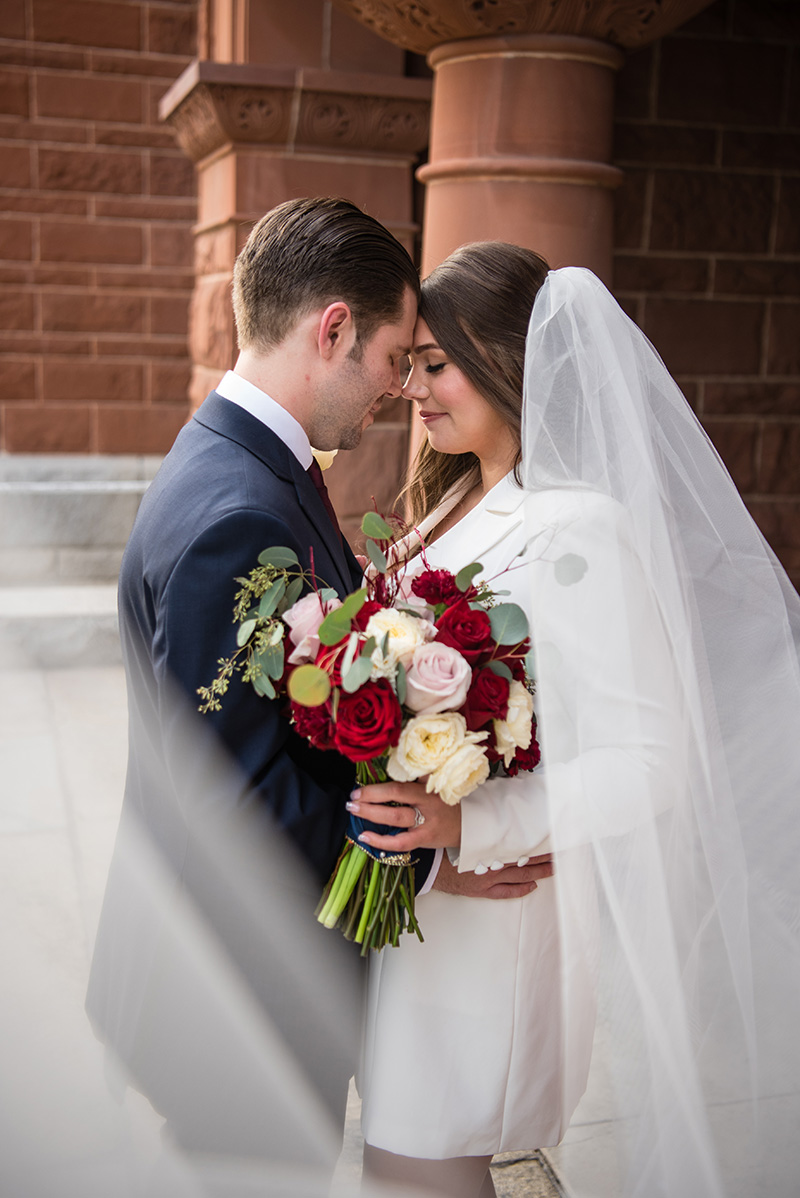 How To Plan a Stress Free Santa Ana Courthouse Wedding In Orange County
If you're reading this blog post then the odds are that either you yourself or someone you know is GETTING MARRIED!
What an exciting time!!
But we all know that in order to transform the wedding of your dreams into a reality, a TON of wedding planning is involved. Which is why more couples today than ever before have opted for a simple yet meaningful Courthouse Wedding! Whether you're looking for somewhere to elope or thinking about having a small and intimate civil ceremony with only a select few close family and friends, we recommend getting married at one of our favorite elopement locations here in Southern California- The Old Orange County Courthouse located in Santa Ana.
After personally photographing many Santa Ana Courthouse weddings, we've decided to help make this time a little easier by putting together a comprehensive blog post that deals with all aspects of planning your special day including:
How to obtain your marriage license
Best days and times to marry
What to wear for your courthouse elopement
Other tips and useful information
So let's get to it! From choosing the right date to choosing your perfect photographer, here's how to plan a courthouse wedding or elopement that is just as special and beautiful as any other wedding venue.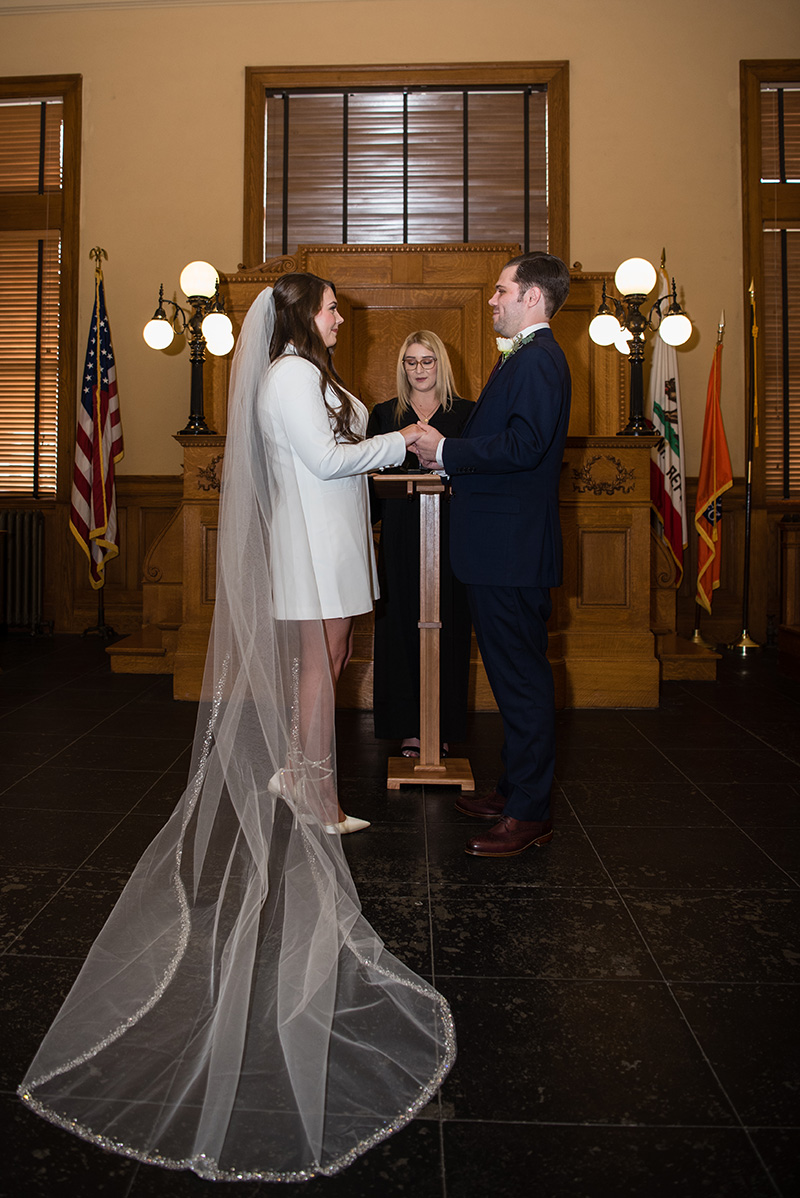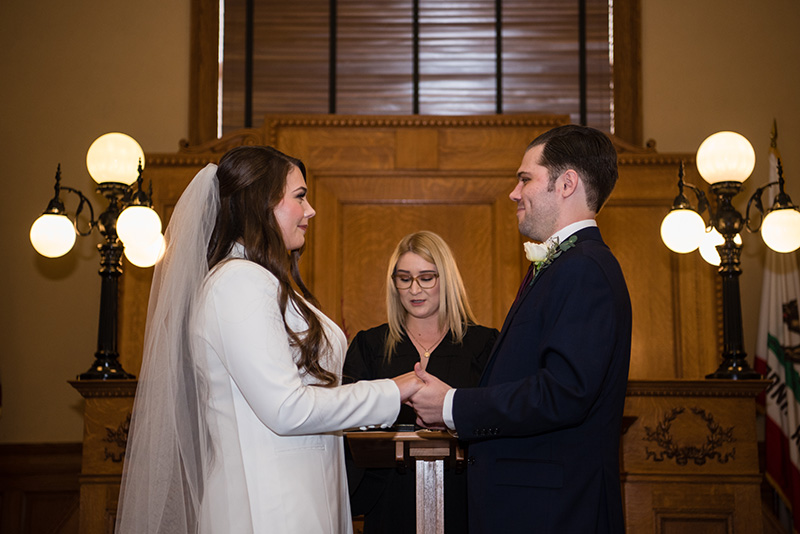 How to obtain your marriage license:
Once you have applied for your marriage license online HERE, you must then appear together in person. Both the bride and groom must present one form of a valid non-expired, government-issued, photo identification such as a driver's license or passport.
You can book your ceremony up to 6 months in advance and although appointments are accepted but not required, online applicants will be given priority.
If you plan to have your courthouse wedding ceremony, you must bring at least one witness to sign the marriage license and witness the ceremony. You will not be provided with a witness.
Both parties must appear in person to complete and obtain an official marriage license within 90 days from the date of online application submission.
The best time to schedule your intimate courthouse elopement
The Courthouse is open Monday-Friday from 8 am – 4pm as well as one Saturday a month (be sure to check the schedule here.) However, we recommend choosing a weekday if possible to avoid the large crowds! We typically suggest scheduling your wedding time 2 hours before sunset and arriving 15-20 minutes before your scheduled marriage time. This gives you the perfect amount of time to ensure a smooth process when completing your civil ceremony as well as heading outside to photograph gorgeous wedding portraits throughout the courthouse and historic downtown Santa Ana surrounding area.
Which room should I have my ceremony in?
There are two main rooms available for your ceremony at the old Orange County Courthouse. A small room with two benches is one option. Getting married here is free and can accommodate up to eight guests. The Santa Ana Courthouse museum, located on the second floor of the courthouse, is also a venue option for getting married. Up to 75 guests can be accommodated in this room. With wood benches and a historic look, this courtroom has been beautifully restored. You should note that reserving this room and performing your ceremony here will require an additional fee of $600. You can reserve this room up to 3 months in advance and for a maximum of 2hours per reservation.
Pictured below: The room included with your courthouse ceremony.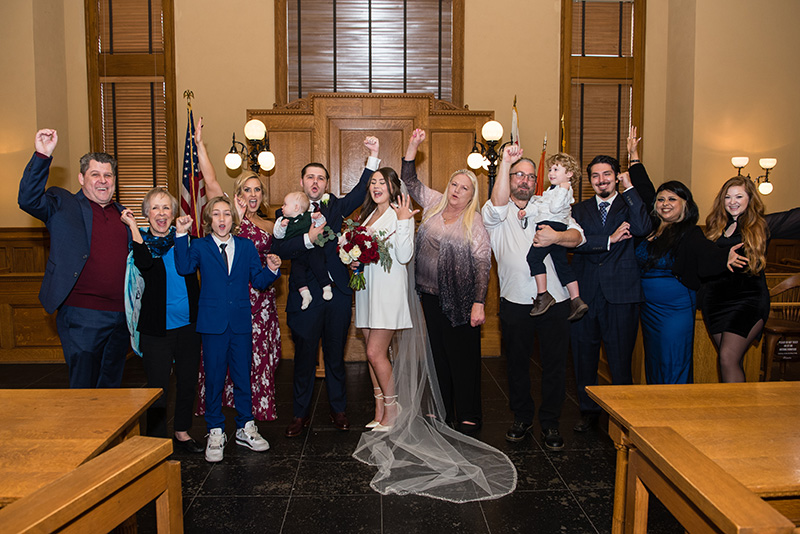 Pictured below: The historic courthouse room, available for an additional $600 fee.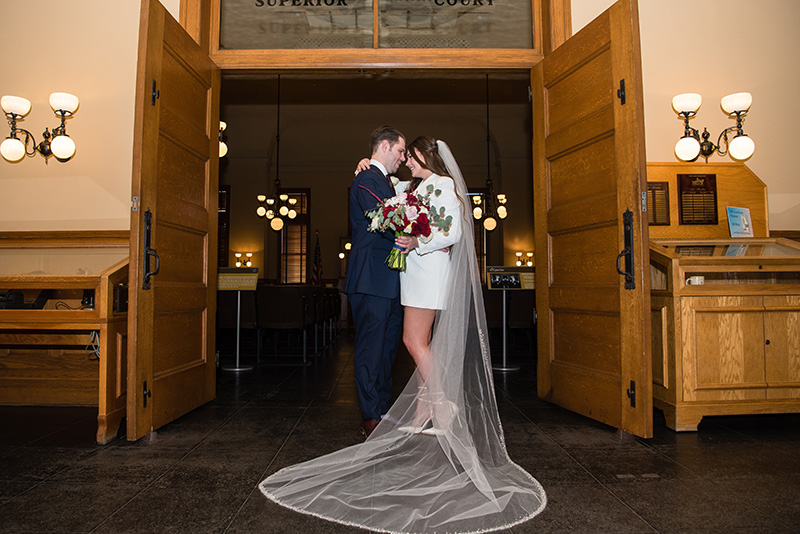 What to wear for your Courthouse Elopement
Just because you're not having a big wedding doesn't mean you can't have a fabulous courthouse wedding outfit! It's best to wear whatever makes you and your partner feel great, whether that be traditional wedding attire or something more casual. Your civil ceremony is an opportunity to have some fun and break the bridal fashion rules, due to its less formal nature. Boho, modern or vintage – you name it! Any and all wedding attire can be seen sported at a courthouse wedding. Another chic look you can't go wrong with is a Classic White Dress, which is always a timeless choice or go with a Fun Jumper or White Ruffled Mini Dress!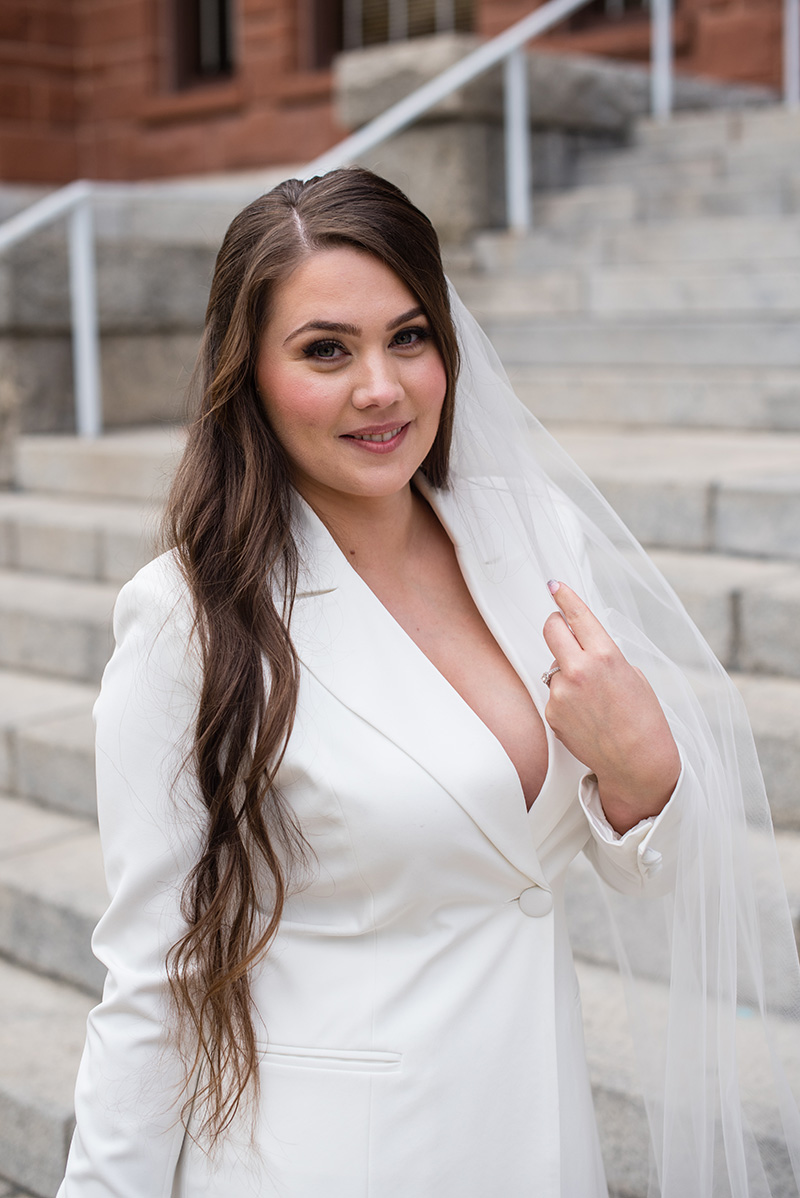 Hire an Experienced Courthouse Wedding Photographer
Perhaps the most important tip of all! Once you've figured out what to wear, the next thing you must do is find the perfect courthouse wedding photographer to capture you in all of your glamor and grace. Luckily, we have tons of experience in this category and would LOVE to help plan and capture all of the photos for you to reminisce on your beautiful day for years to come! Contact us for information about our Santa Ana Courthouse Wedding photos.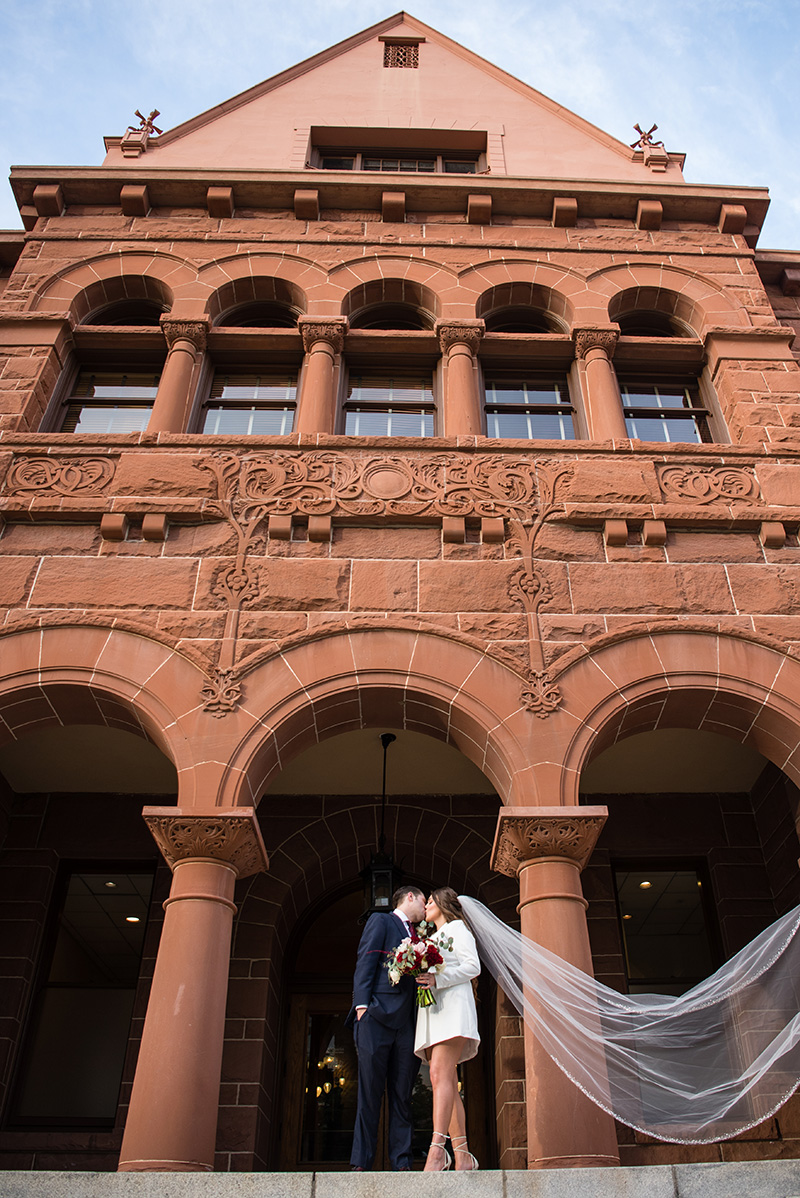 All in all, getting married at the courthouse is a great option! You'll want to make this once in a lifetime moment as special as possible by following the steps we've provided for you and planning your day accordingly (all without breaking the bank!) We hope this information can help you appreciate and plan an unforgettable courthouse wedding ceremony.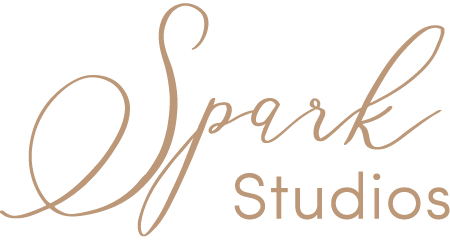 About Spark Studios
Located in Huntington Beach, California, Spark Studios is Orange County's top natural light photo and film studio available for professional photography services by the Spark Studios in-house photography team, hourly studio rental, and wardrobe rental.